Alumni gear up for golf, scholarships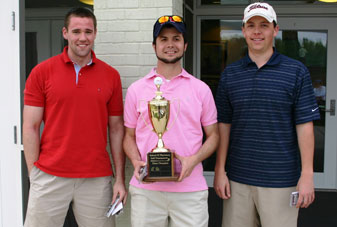 ore than 60 players and some two dozen sponsors of the School of Pharmacy Scholarship Golf Tournament raised more than $17,000 last spring.
Pharmacy school and Alumni Association officials are hoping for a repeat performance at the tournament this spring because proceeds from it could fully endow a scholarship created by the Pharmacy Alumni Chapter with proceeds from two previous tourneys.
The 2012 tournament again will be part of Pharmacy Alumni Weekend events set for March 30-31. In addition to the tournament, which is set for March 30, events include the annual dean's reception, alumni and friends breakfast, awards banquet and reunion dinner, and campus continuing pharmacy education program.
Prizes for tournament winners abound: gift certificates for the tournament champions and prizes for winners of several contests, including longest drive, putting and closest to the pin. Last year's championship team was led by pharmacy alumnus and Tyson Drug Co. owner Bob Lomenick of Holly Springs.
"The tournament was well-done," said Lomenick, who runs two pharmacies in Holly Springs and another in Potts Camp. "We were treated well, the food was great, and it was just a great day all the way around.
"I was a student once and know how important a little financial help can be, so this tournament is priceless. It was great fun, and with the proceeds going for scholarships, how can you not enjoy that?"
Players in the annual tournament include pharmacy school alumni, faculty, friends and students. Student teams representing their pharmacy classes compete for the tournament's class champion honor, which includes a trophy that resides in the student lounge in Faser Hall. Each year, the winning team members' names are engraved on the trophy.
Last year's class champions were Curt Butler, George Cibulas II, Clay Powell and Brent Crenshaw—all then enrolled in the fourth year of the professional pharmacy program.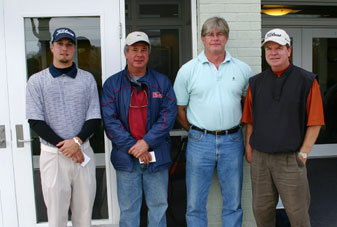 "The tournament provided an opportunity to have a good time with friends, raise money for scholarships, and meet a lot of alumni and ask questions about opportunities they had," said Crenshaw, who is practicing at the CVS Pharmacy in Southaven.
Assorted tournament sponsorship opportunities are available, with 100 percent of the proceeds going to the Pharmacy Alumni Chapter Scholarship. Sponsorship benefits range from signage on tee boxes, putting greens and holes to recognition at the pharmacy weekend awards banquet and tickets to that event, as well as tournament registration fees.
The pharmacy school awarded the inaugural PAC Scholarship to Laura Schrock of Durant last fall. Schrock, who is in the third year of the professional pharmacy program, not only excels academically but also plays the piano and participates in lots of extracurricular activities.
"We are very proud of Laura, and we wish that we could assist all of our deserving students in this manner," said Marvin Wilson, associate dean for student and academic affairs.
"Although our School of Pharmacy offers one of the finest and most economical pharmacy degrees in the country, the cost of attending college or university anywhere is a burden for some students," Wilson said. "We are thrilled that proceeds from our 2012 tournament are expected to fully endow this particular scholarship, and that proceeds from future tournaments will increase the endowment so we can support multiple students each year."
Those wishing to sponsor the tournament, a hole or contest should contact Scott Thompson in Alumni Affairs at 662-915-1878 or thompson@olemiss.edu.
Anyone wishing to register a team to play in the tournament should return his or her registration form to the Alumni Affairs Office, P.O. Box 1848, University, MS 38677. Registration forms were mailed Feb. 22.