Presidents and the Blues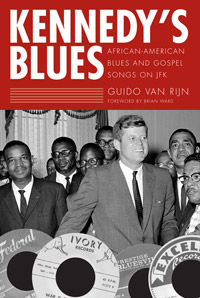 While inferences can often be read between lyrical lines, the blues have offered little overt political commentary over the course of their 100 year recording history. In a time of extreme racial inequality, fear of repercussion probably led a number of singers to avoid recording their political views onto audio discs.
The author Guido van Rijn, who has published three books on presidents and blues music, found that only 1.4 percent of the gospel and blues songs recorded between 1902 and 1945 have any direct political references. Notable exceptions include over 100 songs in support of Franklin Delano Roosevelt and his New Deal.
For obvious reasons, blues musicians, like artists from other genres, have often made more explicit political comment through music since the American Civil Rights Movement. Singer J. B. Lenoir's lyrics are some of the most pointed. In "Vietnam Blues" (1966), Lenoir examines the war abroad against racial tensions at home:
"Mister President you always cry about peace,
but you must clean up your house before you leave,
How can you tell the world how we need peace,
and you still mistreat and killin' poor me."
Lenoir's "Eisenhower Blues" even calls out a president by name:
"Taken all my money, to pay the tax
I'm only givin' you people, the natural facts
I only tellin' you people, my belief
Because I am headed straight, on relief
Mm mm mm, I got them Eisenhower blues
Thinkin' about me and you, what on earth are we gonna do?"
Below are several 45 rpm discs featuring presidential themed blues tunes.
"Sleepy" John Estes and Hammie Nixon. "President Kennedy."

Click thumbnail to view larger image
Click here for UM Library catalog record
Brother Will Hairston. "Story of President Kennedy."

Click thumbnail to view larger image
Click here for UM Library catalog record
Big Boy Henry. "Mr. President."
Click thumbnail to view larger image
Click here for UM Library catalog record
Lulu Reed and Freddy King. "Do the President Twist."

Click thumbnail to view larger image
Click here for UM Library catalog record
King Soloman. "Please Mr. President."

Click thumbnail to view larger image
Click here for UM Library catalog record
Percy Mayfield. "I Don't Want to Be the President."

Click thumbnail to view larger image
Click here for UM Library catalog record
Johnnie Taylor. "I Could Never Be President."

Click thumbnail to view larger image
Click here for UM Library catalog record
Return to the top