Nixon and Ford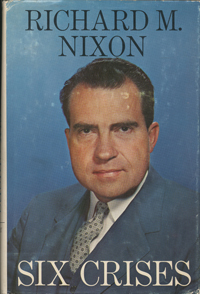 Richard M. Nixon (1969-1974)
Following his failed 1960 presidential campaign, Nixon wrote a bestselling political memoir entitled Six Crises which examines pivotal episodes he experienced as a congressman, senator, and vice president. The volume in Special Collections is a signed, first edition.
Gerald Ford (1974-1977)
Ford assumed the presidency on 9 August 1974 upon the resignation of Richard M. Nixon. Almost a year earlier, Nixon had nominated the Senate Minority Leader to replace Vice President Spiro Agnew, forced into leaving over a bribery scandal. Ford became the first vice president and president to hold both posts without voters having elected him to either office. Below is a signed copy of the speech delivered in Ford's first appearance as president before Congress three days after his swearing-in.
Richard M. Nixon, Six Crises
Click thumbnail to view larger image
Click here for UM Library catalog record
President Gerald Ford's first address to a Joint Session of Congress
Click thumbnail to view larger image
Click here for collection finding aid
Return to the top