1924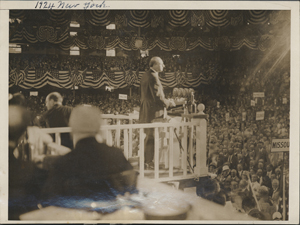 A master strategist in the Democratic Party, U.S. Senator Pat Harrison of Mississippi delivered the keynote speech at the 1924 national convention – the first national political convention heard in a live radio broadcast. A noted orator, Harrison rallied conventioneers with an hour-and-a-half address that ridiculed Republican corruption.
On view below are one typed page from numerous drafts of the speech prepared by Harrison, as well as the advance galley sheets for what William Jennings Bryan described as "the greatest keynote speech" that he had ever witnessed.
After 103 ballots, Democrats nominated John W. Davis, an obscure compromise candidate soundly defeated in the fall by Republican incumbent Calvin Coolidge.
Photograph of Pat Harrison delivering the keynote address at the 1924 Democratic National Convention

Click thumbnail to view larger image
Click here for collection finding aid
Typed draft of Pat Harrison's 1924 keynote speech

Click thumbnail to view larger image
Click here for collection finding aid
Galley sheets for Pat Harrison's 1924 keynote speech
Click thumbnail to view larger image
Click here for collection finding aid
Return to the top