FDR and Senator Pat Harrison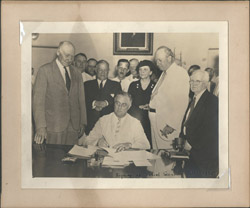 In 1935, Franklin Delano Roosevelt signed one of the most significant pieces of twentieth-century legislation, the Social Security Act. Captured in a photograph, the man pictured on his left in a white suit and holding a cigar is U.S. Senator Pat Harrison of Mississippi, chair of the powerful Finance Committee.
Two years later, Harrison joined the president on a trip to the Mississippi Gulf Coast. Afterwards, FDR sent the senator recompense for poker losses during that visit.
Roosevelt Signing Social Security Act

Click thumbnail to view larger image
Click here for collection finding aid
Roosevelt's Poker Debt Letter & IOU
Click thumbnail to view larger image
Click here for collection finding aid