1892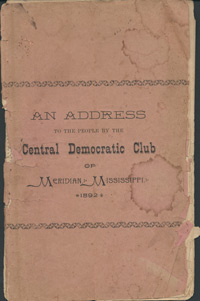 Tariffs and the currency standard dominated policy discussions in presidential elections towards the end of the nineteenth century. Although the free market Democratic Party retained a large following in Mississippi and the rest of the South, the inflationary silver coinage promoted by the Populists attracted debt-ridden farmers.
An Address to the People by the Central Democratic Club of Meridian, Mississippi, 1892 demonstrates the perceived threat of this third party, suggesting that Populism would divide white voters and permit the rise of the Republicans. Conceding that the principles of the Populist Party merit support, the author nevertheless condemns the character of its nominee James B. Weaver by recounting his war record.
In the end, Mississippi's nine electoral votes helped to return Democrat Grover Cleveland to the White House for his second, nonconsecutive term.
An Address to the People by the Central Democratic Club of Meridian, Mississippi. 1892

Click thumbnail to view pdf
Click here for UM Library catalog record
Return to the top