1968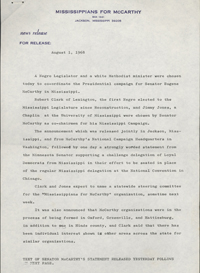 After President Lyndon Johnson announced that he would not run for reelection, the Democratic Party split into factions. Labor unions, big-city political bosses, and southern conservatives supported Vice President Hubert H. Humphrey. Intellectuals and students rallied around Senator Eugene McCarthy, an early activist against the Vietnam War. African Americans, Catholics, and other minorities favored Senator Robert F. Kennedy.
On April 25th, Humphrey made a campaign stop at the University of Mississippi. Although he referenced William Faulkner's character Quentin Compson in his comments that day, the Vice President remarked upon a transformation where "the South is becoming more like the North, the East more like the West – all of it more like America – every day."
Just weeks prior to the Democratic National Convention, McCarthy announced his support for the Loyal Democrats of Mississippi who intended to challenge the all-white Mississippi Democratic Party for their delegate seats. With the guaranteed protection of the federal Voting Rights Act, the number of registered black voters in the Mississippi had increased dramatically. Unlike 1964, the Credentials Committee granted the state's convention seats to the biracial Loyal Democrats.
Humphrey proceeded to win the Democratic nomination, however Republican candidate Richard M. Nixon triumphed in the general election. Although Nixon pioneered a "southern strategy" designed to win over conservatives angered by the Democratic civil rights platform, the majority of Mississippi's voters supported third-party segregationist candidate George Wallace.
Mississippians for McCarthy Press Release dated 1 August 1968
Click thumbnail to view larger image
Click here for collection finding aid
Vice President Humphreys Notes, Question and Answer Session, University of Mississippi, 25 April 1968

Click thumbnail to view larger image
Return to the top