The Willie Morris Collection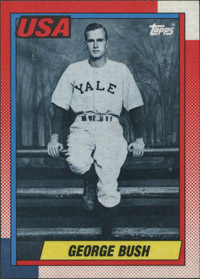 George H.W. Bush (1989-1993)
Bush was a fan of bestselling author and University of Mississippi writer-in-residence Willie Morris, and the two men exchanged several letters over the years. In 1992, Morris sent the president a signed copy of After All, It's Only a Game, a collection of sports stories from his youth. Bush returned the favor with a signed baseball card from his 1947-1948 season on the Yale University team. Topps Baseball Card Company produced this limited run issue in 1990, after one of the president's grandsons had expressed a wish to become an athlete because politicians do not appear on baseball cards.
Bill Clinton (1993-2001)
During his travels to and from England for his Rhodes Scholarship, a young Clinton visited with Harper's Magazine editor Willie Morris, who had recently won a Houghton Mifflin Literary Fellowship award for his memoir North Toward Home. When Morris left the magazine in 1971 after disagreements with the owners over story content, Clinton wrote a letter of appreciation.
Return to the top